Kigali Deploys Sensor-Fitted Bins To Improve Waste Management-Africa
L-R : Pudence Rubingisa, Mayor, City of Kigali; Paula Ingabire, the Minister of ICT and Innovation; and Lacina Koné, the Director General, Smart Africa Secretariat, officially launch the Smart Waste Management and Collection pilot project in Kigali on Tuesday, November 2. / Photo: Craish Bahizi.
Waste management in the City of Kigali has started improving thanks to a Smart Waste Management and Collection pilot project that has been launched. It uses locally fabricated dustbins fitted with sensors to monitor waste levels in real-time. The dustbins, which are geolocalised, are monitored via an internet-based system. The sensors then send live notifications to waste collectors about the waste levels in the bins. The garbage is then taken to Nduba Landfill. They can also be taken to recycling facilities. Such dustbins have different colours depending on waste type, with the green ones being for biodegradables, blue for recyclables such as plastic and papers, while grey is for electronics.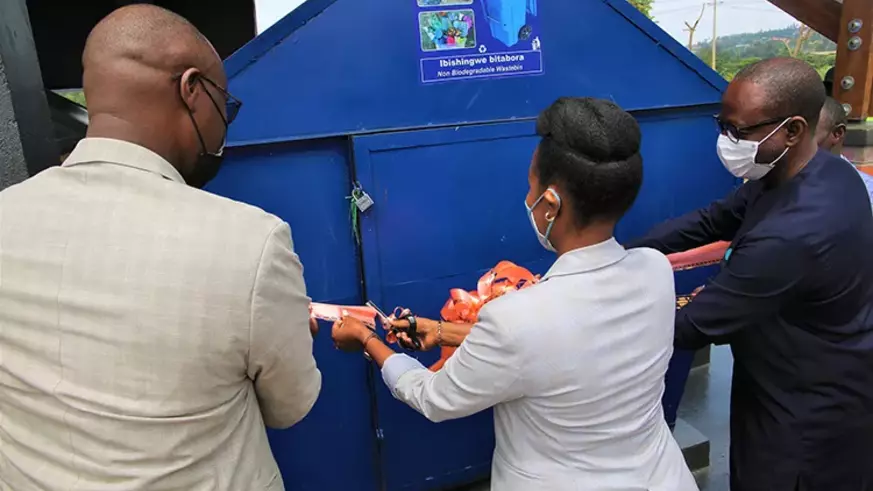 The pilot project was launched on Tuesday, November 02, 2021 in Kigali, by the City of Kigali, the Ministry of ICT and Innovation (MINICT) and Rwanda Information Society Authority (RISA) in partnership with Smart Africa and the Norwegian Development Agency (NORAD), which are partners in the project. It was implemented at five sites; Kimironko Public market, Mulindi Public market, Zinia Public market, Mutangana public market and Karama model village. These waste collection stations are solar-powered, and camera surveilled [for security purposes].
Source: The New times
Posted on: Nov 03, 2021